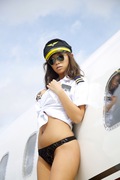 Fantasies during a hypnotic trance can be much more immersive than when awake. This means that they seem more real, more involving. The person in the trance becomes much more engaged in the fantasy than if they were awake.

This also means that the fantasy is more intense, exciting and arousing for them.

In a hypnotic fantasy you can be in any scenario. You can be making love outdoors, in public, while being watched or even with a famous celebrity. You can even make love in outer space!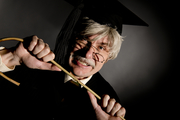 As many scenarios as you want

Hypnotic fantasies can be anything you or your partner find exciting.

Fancy an encounter with a doctor on duty? A sexy shower? Or maybe you or your partner have an idea involving a teacher that's a turn on. For something particularly kinky, what about making love to a martian?
The
how-to book for
Erotic Hypnosis
Look Into My Eyes
Using fantasy during your sexual hypnosis sessions with your partner can add to an already exciting experience.
Look Into My Eyes
explains how to create involving and engaging fantasies for your partner, fantasies in which you can and should participate!
Hypnosis can already make your partner highly aroused, but combining it with sexually-charged fantasies - such as joining the mile-high club, daring love-making in a department store, the forbidden fruit of a patient seducing her doctor or risque sex when someone might be watching - can make it even hotter.
Look Into My Eyes
has ready-made scripts for all of these and more. It explains how to create a fantasy for your partner, how to participate in it with them, and how to smoothly end the fantasy and bring your partner back to earth when you're done.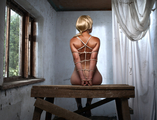 Bondage and discipline fantasies

Many people find bondage and discipline fantasies to be real turn-ons. If you can't do the real thing (What! You don't have your own dungeon?) then a hypnotic bondage fantasy can be an exciting, easy and safe alternative. Hypnotically binding your partner so they can see and feel what you're doing but can't move to escape you can be very intense.